The Mata Amritanandamayi Math (MAM) provided another 2,000 scholarships to impoverished children today. The scholarships are part of the Vidyamritam program, through which 32,000 children throughout India are now receiving such aid. The function was held at Amrita Vishwa Vidyapeetham campus in Amritapuri at 4:30 p.m.
Twenty-five scholarships were distributed by Sri. Vayalar Ravi, the Honourable Minister of Overseas Indian Affairs, as were 25 by acclaimed Malayalam film-star Padmasree Mohanlal. These 50 students were symbolic of the 2,000 new beneficiaries. His Excellency R.S. Gavai, the Governor of Kerala, inaugurated the Vidyamrita Sangamam 2009 by lighting the lamp. Sri Mata Amritanandamayi Devi graced the function with her presence, giving darshan to each recipient.
Swami Amritaswarupananda Puri, MAM's vice-chairman, welcomed the dignitaries. Addressing the gathering he said, "For Amma, removing the sorrows of others is as natural as drying the tears from her own eyes. The happiness of others, this is Amma's happiness. The security of others, this is Amma's security. The rest of others, this is Amma's rest. This is Amma's vision. And it is this vision that Amma's life is dedicated to awakening in humankind."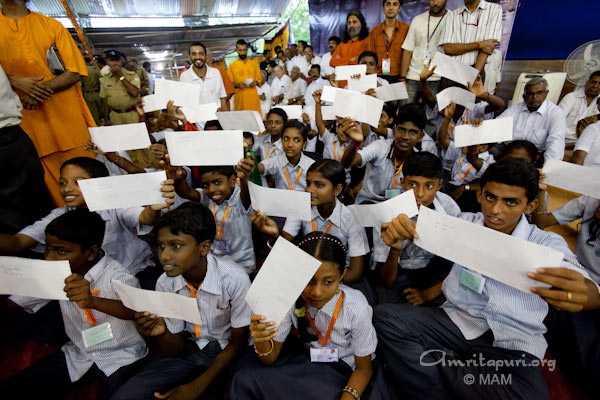 As an extension of Vidyamritam, MAM is conducting camps and programs for beneficiaries in order to help inculcate values and a sense of empowerment. One such program, Vidyamrita Sangamam 2009, was held at the Amritapuri Ashram on 25th and 26th September. MAM provided each of the children who participated in the event with a new set of clothing. The camp was the culmination of a state-wide arts competition. Prizes were distributed by the His Excellency the Governor. The first-prize winners in elocution, junior and senior levels, also spoke on the occasion.
Vidyamritam camp conducted for children concluded.
Cross-Posted from www.amritapuri.org