Amma today presented Sri. Arun Jaitley, India's Hon. Minister of Finance, a cheque for Rs. 100 crore (US$15 million) for the construction of toilets in the poorest villages surrounding the Ganga River, as part of Prime Minister Sri. Narendra Modi's Swachh Bharat (Clean India) and Namami Gange (Clean Ganges) projects– efforts to end the life-threatening diseases affecting millions of Indian citizens stemming from contaminated water sources, caused by widespread open defecation. A second Rs. 100 crore (US$15 million) phase of the project is due to be announced later in the month, during Amma's birthday celebrations.
In giving the donation, Amma remarked: "Water, a symbol of life, is one of the five elements of nature that the Indian culture deeply reveres. Though the lives of millions of Indians today depends on the Ganga, this sacred river has only 25% of the original water left- the rest is sewage and factory waste. The unhygienic conditions prevalent in villages on the river banks cause diseases like cholera and diarrhea as people drink water from the river. Being a person born and brought up in a coastal village, I have personally seen people suffering from the scarcity of clean drinking water."
"In my view, compassionate service to the poor is real worship," said Amma. "A harmonious blend of self
less service, while providing the necessary awareness, is true compassion. This project will provide much-needed amenities to those who truly need them. Along with construction, education is also required. The villagers need to be taught that open defecation leads to water and soil pollution, which further contaminates food and leads to many types of parasitic infections. In our organization's experience with toilet construction for the poor, creating this awareness is essential. Otherwise, despite having the proper facilities, they may not use them."
Aside from the donation, Amma's organization, the Mata Amritanandamayi Math, will also be providing such education.
In accepting the donation on behalf of the Government, Sri. Arun Jaitley commented: "This 100-crore donation coming from Amma has more than the material relevance of 100 crores. 100 crores itself is a substantial amount to come from one institution. But more important than 100 crores is when a saint of the relevance of Amma takes a step in this direction, it sends a message across the world- not merely in India- that everyone who is committed to this great cause should contribute to it. Therefore this gigantic step that Amma has taken today is both a material and also a symbolic message to everyone across the world who is concerned about the Ganga that, "This is my campaign and therefore every poor person on the banks of the Ganga must have a toilet so that we can keep the environment clean and the pollutants of the households don't get into the Ganga itself."
The art of giving
Sri. Jaitley also spoke about Amma's significance for India as a nation and the world as a whole. "Amma has come to symbolize spiritualism, philanthropy, service to the poor and the art of giving. The institutions started by her blessings have changed the medical and educational landscape of many regions by rendering yeoman service, such as AIMS (Amrita Hospital) at Kochi and the world-class Amrita Vishwa Vidyapeetham with its 18,000 students. Amma's message of love and affection have made millions of devotees from all around the world contribute towards the larger interests of society."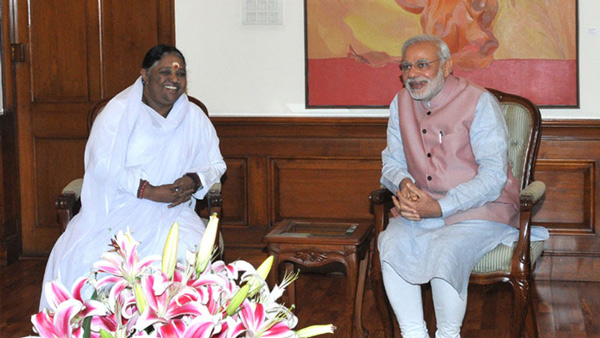 Prime Minister Modi and Amma first discussed the Clean Ganges Project during Amma's visit to Delhi in March 2015. At that time the Prime Minister expressed his gratitude to Amma for her environmental initiatives, which are in alignment with his Clean India Project, the country's largest environmental and cleanliness drive to date, which includes the goal of providing sanitary toilets to more than 60 million homes by 2019. Present figures show nearly 600 million people in India have no access to sanitary toilets – a major cause of disease and further societal problems.
Amma's Ashram has been directly addressing the issue of open defecation and the lack of proper sanitation facilities by training women to build their own toilets and bathrooms. Along with the sustainable technical and vocational skills, women are also being given awareness on the importance of hygiene, sanitation, proper toilet use, repair and maintenance. The initiative was successfully piloted in Odisha in September 2014, and has since expanded to villages in 17 states across India.
Amma launched the all-India Amala Bharatham- Clean India, Beautiful India- Campaign in 2010. Through the programme, thousands of clean-up drives in public areas across India have already been conducted. Volunteers also work to spread awareness in schools and to the general public regarding the proper way to dispose of trash and the importance of not spitting or urinating in public. These efforts have included the distribution of more than one million handkerchiefs to school children to stop spitting, as well as a massive annual cleaning of the world-famous Sabarimala pilgrimage site and Pampa River.